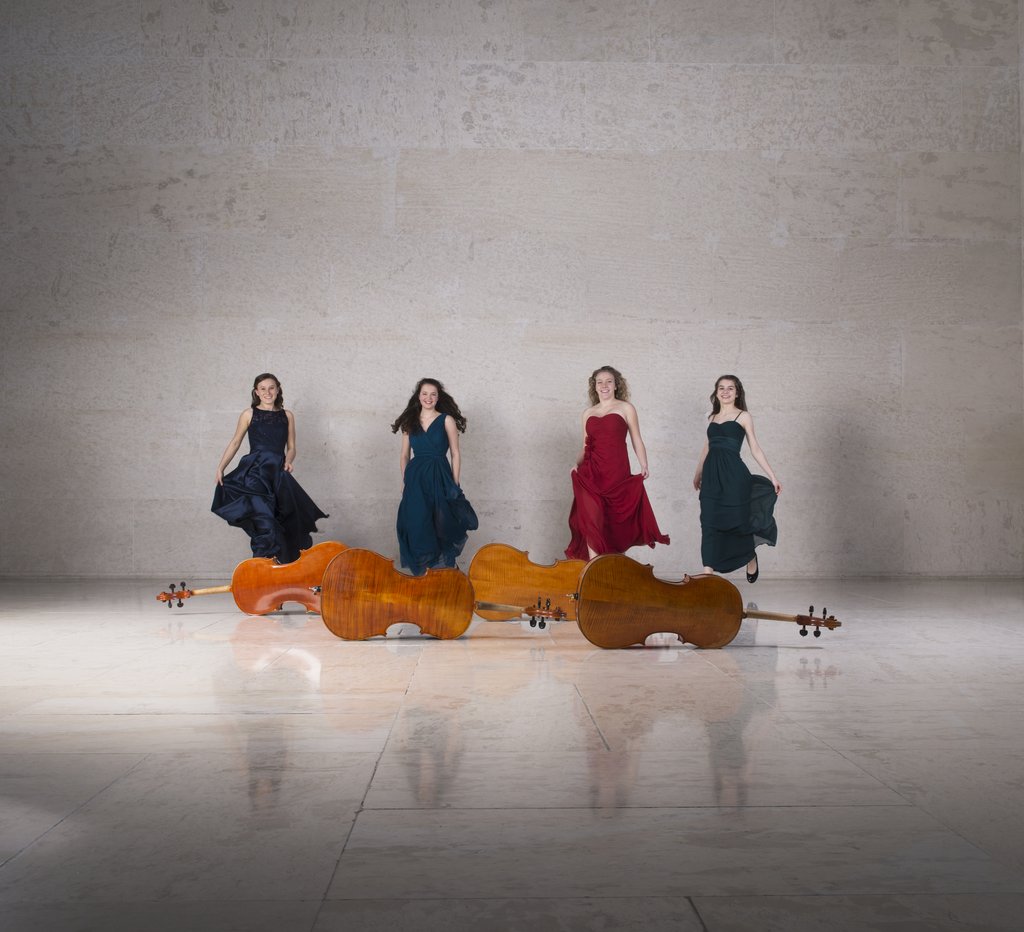 The Cello Quartet DIE KOLOPHONISTINNEN
Hannah Amann, Marlene Förstel, Elisabeth Herrmann und Theresa Laun
Founded in 2014 under the direction of Maria Grün, the Cello Quartet Die Kolophonistinnen consists of four young, chamber-music-loving cellists: Hannah Amann, Marlene Förstel, Elisabeth Herrmann, and Theresa Laun. The name of the ensemble refers to rosin, an amber-colored tree resin, which creates the friction between bow and string to make the wonderful sound of cellos possible.

Maria Grün, cellist of the famous Viennese orchestra Wiener Symphoniker, teaches and supervises the young quartet with untiring commitment. Their first big success was achieved with a first prize in the national Prima la Musica competition 2015, a result that the musicians were delighted to achieve again in 2017.

In 2015, appearances at the Norwegian Embassy in Vienna and in the concert cycle of the International Chopin Society at the Hotel Imperial followed. In autumn 2015, the four cellists provided the music during an award ceremony at the Austrian Embassy in Berlin.

In 2016, the quartet took part in the BePhilharmonic Strauss Music Contest, the Vienna Philharmonic´s youth competition. There, they impressed the jury with the Furioso Polka op. 260, newly arranged by Leonhard Roczek. The overwhelming prize was a performance at the Summer Night Concert 2016 of the Vienna Philharmonic at the garden of the Schönbrunn Palace.

Another highlight in the cello quartet's career was their performance in the intermission movie of the 2017 New Year's Concert of the Vienna Philharmonic, which is broadcast worldwide. In the movie, Die Kolophonistinnen present an enchanting remix (Leonhard Roczek) of Wiener Blut, the famous waltz by Johann Strauss' son, op. 354.

The cello quartet achieved a particularly remarkable success in December 2017. They participated in the Musica Juventutis competition and won an appearance at the Wiener Konzerthaus in November 2018.

In February 2018, the young musicians will play a full-length concert as part of Kempen Klassik (Germany). The program includes a fresh and colorful mixture of waltz, polka, tango, and jazz.